1969-2009 - 40thAnniversaryof the return of league racing in Glasgow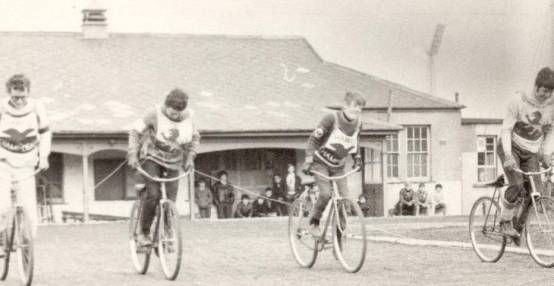 Heat 1 Hampden v Levernside (l to r) Mike Blair; Eddie Reavey; Moosh Nicolson; Alan Irvine (29/3/69)
Cycle speedway in Glasgow had petered out in the early 1960s once the track at Mansewood had been closed when the site was redeveloped to build a new school. The few remaining stalwarts headed east to race. John Speirs, Brian Gilliland, Chic Mackie, Jimmy Cobain, Doug Maxwell and Norrie Allen all continued racing in Edinburgh and possibly that would have been the end of the sport in Glasgow but Trevor Redmond joined forces with Ian Hoskins to bring the Glasgow Tigers back to the White City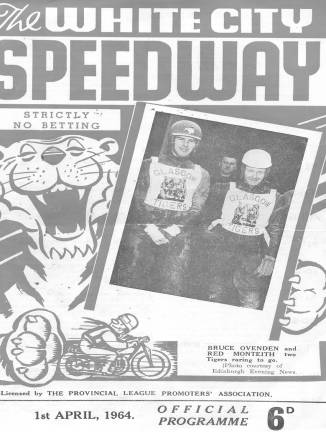 White City reopened its doors on 1st April 1964, when Jack "Red" Monteith was one of the Tigers team, scoring four points, including a heat win, as Tigers beat the visiting Middlesboro Bears 44-34. This was to be a significant first step in the return of first cycle speedway, and later of organised league racing to Glasgow.
All over Glasgow, young boys were out on their bikes, trying to emulate their heroes, on tracks that required a great deal of imagination to believe they were anything like the real thing! Alan Irvine remembers riding round the red ash path at Mosspark Bowling Club, along with Iain "Morrie" Morrison. It was square with right angled corners and was so narrow that only one rider could "race" at a time! Dare say the bowlers weren't too pleased about them being there either. However the track that was built on the site of disused black ash football pitches, adjacent to the Corkerhill railway sheds, did pass muster, even if the inside line was frequently a matter of interpretation!
By 1965 the "pioneers" included "Mud", "Elk", Fraser Aitken, "Bunny", Alan Irvine and Fred Caffrey. It was only the latter three who continued to ride the following year. Mostly it was just "scratch" meetings with sides being picked from whoever turned up. In autumn 1965, Fraser Aiken organised a meeting between Corkerhill and Allan Glens school, for whom a young Nicky Nicolson took his bike on the train from his Drumchapel home to Partickhill station from where he cycled through the Clyde tunnel to Corkerhill. Perhaps this made quite an impression on the Corkerhill boys for the future!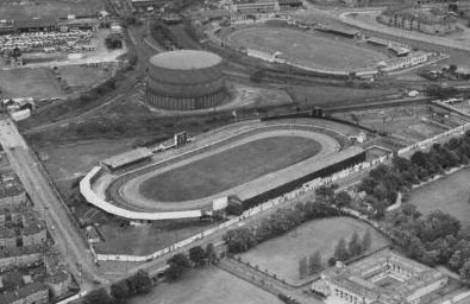 An aerial view of the still lamented White City
A 1966 edition of Smoke Signals, the Edinburgh cycle speedway magazine, chronicles the resurgence of the sport in Glasgow. The article was written by "St Mungo", believed to be John Speirs.
It records a number of meetings, where sides were selected from whoever turned up and were named in accordance with these politically incorrect times. Alan
Irvine scored eleven for the "Jews" who were narrowly defeated 49-46 by their arch rivals, the "Arabs". There was a fair mix of riders at this meeting. Corkerhill boys included Fred Caffrey, Bunny (Derek Anderson), Billy Russell and Iain Morrison, while the Scottish Rangers were represented by Dick Barrie, Brian Gilliland, Jimmy Cobain and John Speirs. Mansewood old boys, David Sampson and Ian Stewart returned to track action while Newlands had Alan Brown, Alan Williamson, Nicky Nicolson and Alan Russell all taking their first, rather tentative, laps.
The next meeting saw Alan Irvine record a dead heat with Alex "Axle" McMillan, with his half point tipping the meeting in favour of the "Black Muslims" who narrowly defeated the " Ku Klux Klan", despite the pillow case wearers pulling a master stroke by tracking John Speirs at reserve and giving him six rides! Veterans Norrie Allan and Jim Thornton made appearances for the Black Muslims.
In a further meeting, "Tongs Ya Bass" beat the Giffnock Grumpie 51-45, in a match where bikes were reported as "falling apart throughout". These meetings were all held at Corkerhill but one was later raced at the old football pitch behind the Vogue bingo hall in Cathcart – later to become Kingsway's home track- on a roughly marked out track, where the imaginatively titled " Visitors" lost 40 -38 to the host "Local Yokels". This is the first reference to any kind of cycle speedway activity in the Kings Park area, where abortive attempts had been made to establish a track at a disused tennis court at Kilchattan Drive, as well as a farmer's field at the far end of Kingsacre Road and also a spare piece of ground at Langside station. The Kings Park boys were certainly dogged, if not successful, in their attempts to build a racetrack! No one would have believed that, in a few years time, this determination would pay off handsomely, with Scotland versus England internationals and NACSA Finals being the order of the day! Interesting to note that they were reported as considering digging out the old Merrylee track – an inventive piece of journalism as, try as they might, they never really discovered the actual site of this track!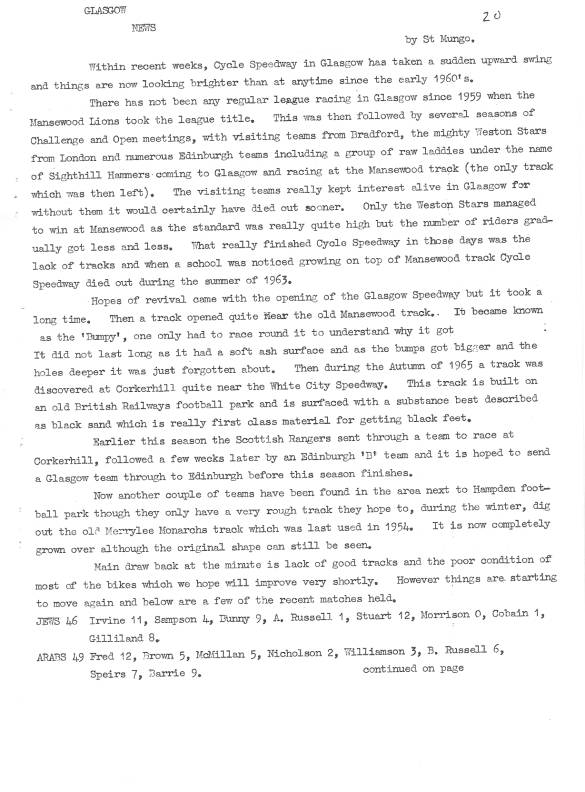 St Mungo writes about Glasgow
However there were a couple of more formal meetings, when Glasgow raced Edinburgh "B". Alan Irvine, Fred Caffrey and "Bunny" supplemented the former Mansewood regulars of John Speirs, Dick Barrie, Brian Gilliland, Ian Stewart and Robert McGregor to complete an eight man team. The scores in these meetings are not known but they were undoubtedly close, keenly fought encounters and were to whet the Corkerhill boys' appetites to take part in a properly organised team racing in a recognised league. This only seemed to be possible in Edinburgh.
Although "Bunny" was to fade from the scene, Stevie Mitchell, Billy Russell, Iain Morrison and Colin Caffrey were to join the Corkerhill group, who eventually summoned up enough courage to phone Ross Gargrave and persuade him to form another Scottish Rangers team, staffed almost entirely by the Corkerhill "Railway Children", so named because they travelled through to the East by train.
After an eventful 1968 season in the Lothians, there was now growing support for restarting the Glasgow league, with teams forming in Kings Park and Ralston. The Corkerhill boys had enjoyed their season at Harrison Park but the travelling was beginning to lose its appeal and they were amongst the prime movers in setting up the new Glasgow league
A lot was happening in Kings Park in the summer of 1968. Ian Welsh had been successful in securing McTaggart and Mickel's agreement to the local boys building a track on the disused tennis courts in Kingswood Drive. A number of terms were attached to this agreement, mainly about not upsetting local householders and, consequently, the Hampden boys were reluctant to share their track with other teams. This was to act as a spur to other boys in the area, when a group headed by Billy Campbell, David Norrie, Alan "Bo" Brown, Sandy Robertson and Colin McMillan formed a team called the Knights and marked out a track on another set of disused tennis courts in Kilchattan Drive. This site had been considered a few years previously and had been rejected as being too small to allow a decent sized track to be laid out – sadly this was again the case.

Knights first team photo taken at Kilchattan Drive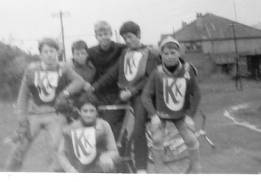 Billy Campbell;David Norrie:Sandy Robertson; Colin McMillan;Alan Brown with Malky Cooper kneeling
Track action from Kilchattan Drive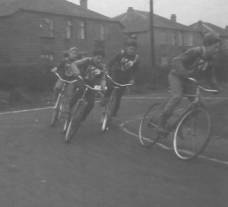 Billy Campbell leads Malky Cooper, Colin McMillan and Sandy Robertson
In early September Hampden beat the Knights in a challenge match to open their new track. Both teams wore their new racejackets – Hampden a blue Hawk on red and white halves while the Knights had "KK". Meanwhile a group of lads from the Ralston area, headed up by Bill McMillan, Jackie Hides, Brian Logan and George Christie, had forsaken their own small track and were regulars at Corkerhill. There was now a groundswell of interest in reforming the Glasgow league. A meeting was held at Reg Travis's house in Mosspark in late September when tentative plans were drawn up to create teams and allocate riders. It was decided that, in addition to Ralston and the Hawks and the Knights, two teams would be formed at Corkerhill – Corkerhill and Levernside. It was also agreed that riders with experience of riding in Edinburgh would be "pooled" and divided up among the teams to ensure that team strengths were fairly even.
The allocations were
Knights Chic Mackie and Brian Gilliland
Hawks Dick Barrie
Ralston Iain Morrison and Billy Russell
Corkerhill Fred and Colin Caffrey
Levernside Alan Irvine and Stevie Mitchell
Chic Mackie was appointed as the Knights team manager and explained to his boys that Kilchattan Drive really wasn't big enough. However he persuaded them to have another look at the site behind the Vogue bingo hall, which had been used a few years previously. Chic, along with Norrie Allan and Brian Gilliland spent a Saturday afternoon driving his van dragging an old bedstead around the site to clear the weeds. The Knights now had a track that would be long enough, and racejackets with a "KK" logo. But what would their team be called? They were literally the wrong side of the tracks to be "Kings Park". How about "Kathcart" ….well may be not !! The problem was solved when some of the boys went for chips at the local chippie called "The Kingsway" …..they would be the Kingsway Knights. It would be about ten years later before teams would incorporate sponsors details into their club name so Kingsway were definitely first! It is a pity that they never discussed this marketing opportunity with the chipshop owner as free chips after a Kingsway meeting would have been very welcome!!
An AGM was held on Sunday 27th October in the Langside Halls and five teams, Corkerhill, Hampden, Kingsway, Levernside and Ralston were accepted as fully affiliated members of the newly constituted association. The following office bearers were elected
Chairman Norrie Allan
Secretary Jimmy Cobain
Treasurer Chic Mackie
P.R.O. Ian Welsh
The latter's nomination was somewhat unorthodox, with Alan Irvine proposing "the guy down the front with the beard"!! Ian was to do some sterling work on behalf of the association and was instrumental in having an article included in the Glasgow Tigers programs for the opening weeks of the 1969 season.
Interestingly it said that Bearsden were expected to compete in the Spring League, with it being hoped that further teams may have been in a position to enter the main league competition when it started in late May. Sadly neither happened. Bearsden were a group of young boys without a recognisable track. They did come to an early meeting at Hampden and had a few laps after the meeting. Unsurprisingly, they were well short of league standard, and, unlike the Corkerhill boys, the travelling was beyond them.
The winter of 1968/9 saw regular practices at Corkerhill when riders from all teams turned up and picked scratch sides from those present. Jimmy Cobain and Norrie Allan usually fulfilled the steward's role and generally explained the finer points of the rulebook to the guys who had never ridden in organised meetings before.
Winter practice at Corkerhill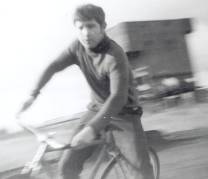 Jackie Hides (Ralston) - note the water tank in the background



League racing returned on Saturday 29th March when, on an overcast afternoon, Levernside ran out comfortable winners by 57-38 over Hampden. Stevie Mitchell scored a five ride paid maximum and would go on to be a stalwart of the Glasgow scene for a number of years, culminating in Shields epic NACSA Senior Team Championship win in1971. Sadly, by the end of the season, he would be the only rider still turning out for Levernside. The Hampden team were to prove more durable, although Alan Williamson and Alan Brown, who were drafted in to cover for the absent Dick Barrie and Gordon Campbell, made their only track appearance in this meeting. It should be noted that Alan Brown was not the Kingsway rider of the same name. Perhaps it was fortuitous that we didn't have two riders with the same name riding through out the season.
The meeting was stewarded by Chic Mackie, some things never really change and a fairly large crowd, made up of interested locals and riders from the other teams in the league, turned out to watch.
http://glasgowcshistory.tripod.com/hampdenhawks/id2.html
gives the full program for this historic meeting
They say that if you can remember the 60s, then you didn't really experience them to the full. This seems to be true of the cycle speedway community too, as few of the riders who took part that afternoon, or who were spectators, can remember anything much about it! Not only was Stevie Mitchell unbeaten by the opposition, while recording the first paid maximum of the new era,but he proved to be a great team man. In particular, he shepherded his inexperienced partners, Thompson and Holden, to heat wins in heats eleven and fifteen respectively – these were their only points.
Third bend action from heat seven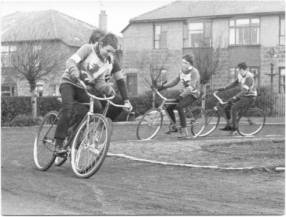 Eddie Reavey leads the almost hidden Alan Brown, with Gordon Aitken ahead of Mike Holden
Interesting to note that the riders in the opening meeting rode with armbands – almost certainly this was the only meeting where they were used.
With league racing having restarted, it immediately closed down the following weekend for the Easter break! However, undaunted, Hampden staged an open individual event and invited riders from all the other tracks. Dick Barrie won the Easter Egg prize, with runner up Alan Irvine getting a Hampden badge and Bill McMillan winning the third place runoff from David Norrie and Nicky Nicolson for a considerably smaller egg!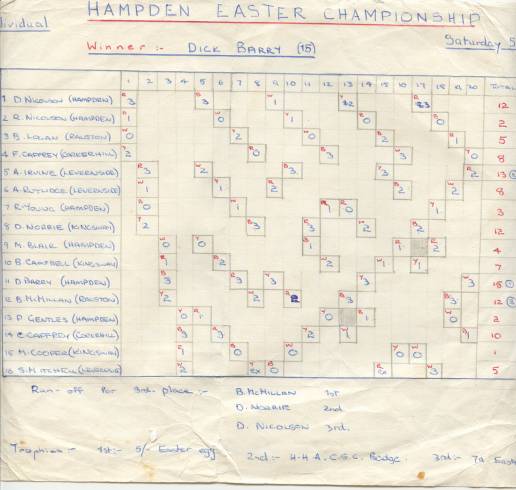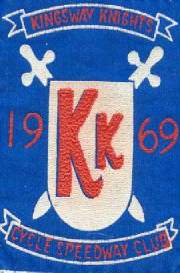 Kingsway Knights badge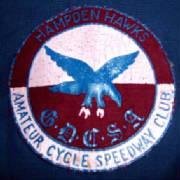 Hampden Hawks badge - 1969
Interesting that Hampden followed the NACSA line, featuring amateur in their title, with "G.D.C.S.A." referring to their membership of the Glasgow & District Cycle Speedway Association
With league racing up and running, some teams turned their attention to NACSA competitions. This brought them into uncharted territory in terms of registration and documentation, not the least that riders were required to have insurance before taking part in team events. It is not known whether this requirement was ever complied with!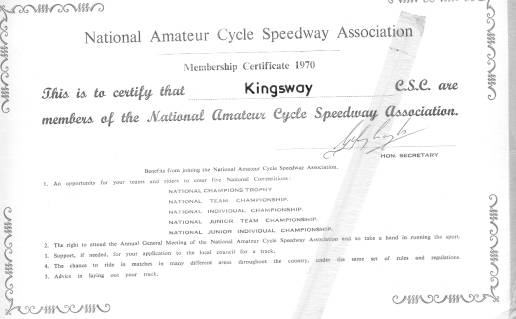 Kingsway's NACSA membership certificate
Edinburgh's Smoke Signals tells of Glasgow return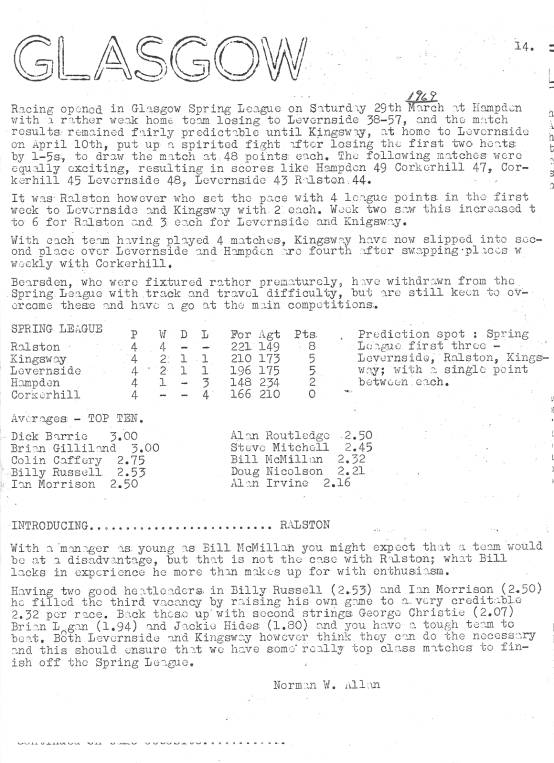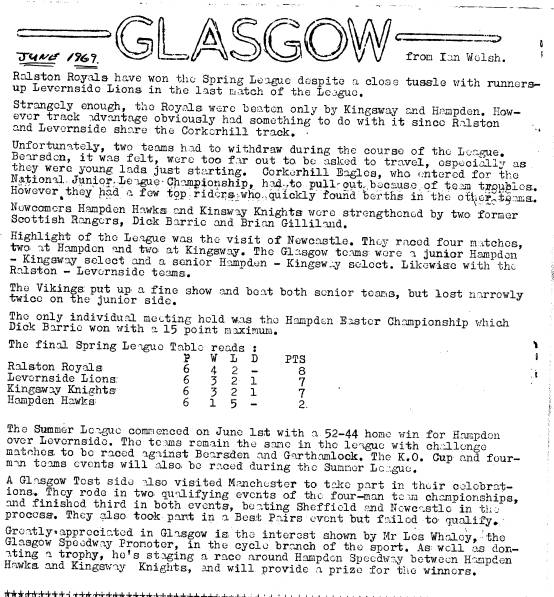 Again the writer was over optimistic in hoping that new teams in Bearsden and Garthamlock would take off. It never happened and the sport in this era would never move beyond the Kings Park – Mosspark corridor. But what an era it was!! With Scotland versus England internationals and NACSA finals at Hampden ….and the jewel in the crown….Shields NACSA Senior Team Championship win in 1971. It all began forty years ago!